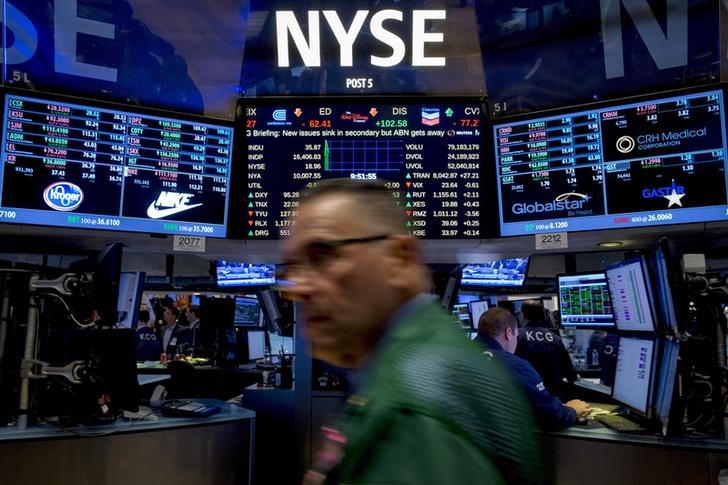 © Reuters. The dow closed at record highs for the fifth-straight session
Investing.com – US stocks closed at record highs on Monday as the risk-on trade continued unabated, led by a surge in Financials ahead of the Federal Reserve two-day meeting which gets underway on Tuesday.
The Dow Jones Industrial Average closed higher at 22,331. The S&P 500 closed 0.15% higher while the Nasdaq Composite closed 0.10% higher.
The rally in U.S. stocks showed little sign of fatigue as investors piled into equities in the wake of falling tensions on the Korean Peninsula while financials surged amid expectations that the Federal Reserve will reaffirm its outlook that an additional rate hike remains appropriate this year, when it concludes its two-meeting policy meeting on Wednesday.
JPMorgan (NYSE:JPM), Goldman Sachs (NYSE:GS) and Citigroup (NYSE:C) ended the session more than 1% higher.
Higher interest rates are seen as boon for banks, boosting net interest margin – the difference between the interest income generated by banks and the amount of interest paid out to their lenders.
"We expect the Federal Open Market Committee will also signal via its economic projections and in [Fed chair] Yellen's commentary during the press conference that it still anticipates raising rates one more time this year, so long as incoming data support its projections for inflation and growth," Said Peter Hooper, chief economist at Deutsche Bank.
Investors, meanwhile, continued to downplay U.S.-North Korea tensions, fleeing safe-haven gold in search of riskier assets such as equities on the back of U.S secretary of state Rex Tillerson's comments that the U.S. seeks a "peaceful solution" and wants to "bring North Korea to the table for constructive, productive dialogue."
'Bulls and Bears' on Wall Street
The top Dow gainers for the session: General Electric Company (NYSE:GE) up 1.5%, Caterpillar Inc (NYSE:CAT) up 1.4% and Boeing Co (NYSE:BA) up 1.4%
Apple Inc (NASDAQ:AAPL) down 0.8%, Nike Inc (NYSE:NKE) down 0.7% and Wal-Mart Stores Inc (NYSE:WMT) down 0.5%, were among the worst Dow performers of the session.
sponsoredArticle = 'div-gpt-ad-1466339494851-0';