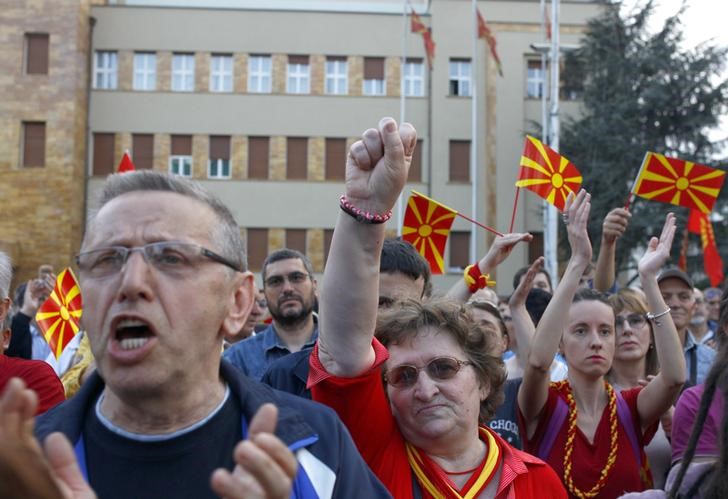 © Reuters. Protesters demonstrate in front of the parliament in Skopje
SKOPJE (Reuters) – Macedonia should start rebounding from a sharp economic slowdown next year as political turmoil subsides, the International Monetary Fund said on Monday.
Prolonged uncertainty brought by the collapse of the coalition in 2015 hit confidence and investment, bringing growth down to a projected 1.9 percent this year, the IMF said, the lowest figure since 2001.
But the formation of a new government in May marked a turning point.
"Real GDP growth is expected to rebound in 2018 and gradually rise to 3-3/4 percent over the medium term, buoyed by improved investor sentiment, expanded export capacities and continued labor market improvements," the IMF said in a statement.
Inflation was expected to reach 1.2 percent this year after three years of deflation, it added.
The country of about 2 million people declared independence in 1991 and avoided the violence that accompanied much of the breakup of Yugoslavia.
It was later rocked by an insurgency among its large ethnic Albanian minority that almost tore the country apart in 2001 and it has just emerged from two years of political turmoil after a wiretapping scandal brought down the previous ruling nationalist VMRO-DPMNE party bloc two years ago.
"Policies should now focus on rebuilding fiscal policy buffers, and implementing critical reforms to rekindle growth and give EU accession prospects a new push," the IMF said as it ended a mission in the Balkan country.
The lender called on the government to cut labor tax at low-income levels and raise additional revenues through more efficient collection of VAT and higher property and fuel taxation, and cut subsidies and reform the pension system to reduce current spending.
It also advised the government to tackle weaknesses in its judicial system and overall governance to attract back foreign investment and enhance its prospects of joining the European Union.
sponsoredArticle = 'div-gpt-ad-1466339494851-0';